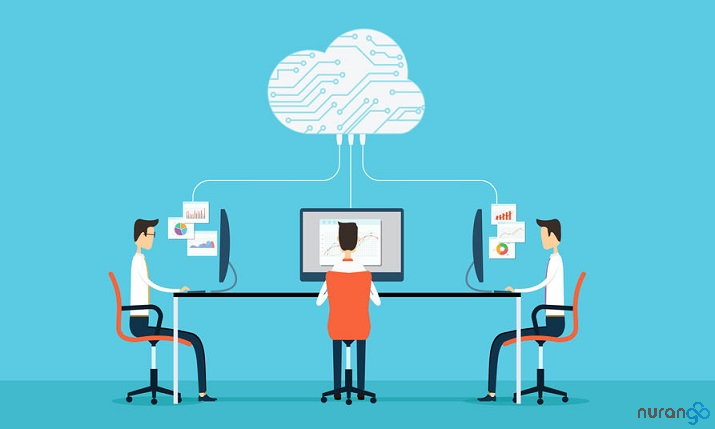 Deploying a Hosted PBX or On-Premise business phone solution for your business is something many admins will need to decide. Making an informed business case for either deployment requires a way-in of pros and cons and ultimately your use case and organizational needs will determine which works best for you.
A Hosted PBX operates strictly using VoIP while an On-Premise PBX phone solution can operate on VoIP (IP-PBX), with analogue, or as a hybrid platform. Even though they might have similar features and functionality, they still have key differences which sets them apart.
First, a few definitions

PBX is an acronym for 'Private Branch Exchange' that describes a telephone system that switches employee's phone calls within an organisation using local lines while enabling those employees to access external phone lines. A traditional term for the clunky box that is your phone system in your office somewhere.
SIP is an acronym for 'Session Initiation Protocol' is an industry standard application layer protocol that is used for peer-to-peer communications and multimedia applications like video, voice and instant messaging.
IP simply stands for 'Internet Protocol' and it refers to the communication system that routes data between internet connected devices.
What is a Hosted PBX?
The term "Hosting" refers to the "storing or management" of information or services. Thus a hosted PBX is a telephone exchange system that is stored or managed by a third party service provider. Also referred to as an IP-PBX or a "cloud" based phone system. As the industry and provider offerings continue to expand, innovative features and third party integrations have evolved these platforms to become Unified Communications as a Service (UCaaS) and Communications Platform as a Service (CPaaS).
What is an On-Premise PBX?
Traditionally the old clunky phone system that sat in your office basement, an on-site PBX can range from inexpensive and open-source to proprietary license based options. These days almost all modern on-premise phone systems are hybrid systems called IP-PBX which incorporates both VoIP and traditional analogue technology.
Key Differentiators
Capital Expenditures

Hosted PBX phone solutions only require an IP phone, business router and a decent internet connection to get started.
You should expect quite a high savings on investment (SOI) with the right plan and deployment. For example, nurango will provide you with free phone and video calls between your employees, (up to 25 users in total) if you register for the on-boarding package.
However, should you decide to deploy an On-premises PBX solution, you will be required to purchase the PBX equipment and cater for the installation costs of those types of equipment.
You will also need to incur costs related to SIP Trunking since it is highly recommended that you have a separate internet connection line for your VoIP services for optimum performance.
On-going costs, there are many..
Hosted PBX service providers usually provide flexible packages for clients such as monthly subscription models where billing options are extremely flexible and dependent on the number of users or devices, features or even the amount of calling minutes needed.
The On-Premises PBX solution deploys a one pricing scheme per channel which enables a user to make and receive one call simultaneously. This means that if your business has 20 employees who are expected to be on the phone line at any one time, your business is expected to have 20 SIP channels to accommodate all of them.
Majority of the VoIP service providers provide a flat rate for a SIP channel payable monthly, though a few may provide you with a 'per minute' payment plan.
Scalability
Both Hosted and On-Premises PBX solutions offer scaling capabilities but differ on their implementation.
Hosted PBX service providers will offer businesses unlimited space for user additions to your cloud PBX Phone system, through a web-based easy to use interface, accessible from any standard browser.
Unfortunately, the scaling ability of an On-premise PBX solution is limited.
Why? This is because scaling is dependent on the business financial ability to purchase more On-premise PBX servers and contract technicians to perform on-site configurations on the equipment.
Geographical Flexibility

A Hosted PBX solution allows users access to their VoIP phone and features from anywhere as long as they have internet access, and sometimes with out. It also allows you to deploy and manage remote users and satellite offices all on one system.
There is a variety of phone software such as 'Softphones' and mobile applications available on all OS platforms that provide users with the ability to make and receive calls from any device.
In addition, using VoIP technology further allows you to eliminate local calling restrictions since most calling rates are the same across whole countries and phone numbers can be purchased from hundreds of cities in dozens of countries.
While an On-premise IP-PBX may provide some remote features but still relies on centralization.
Technical Expertise

Hosted PBX service providers handle all technical challenges on behalf of their clients, which translates to huge cost savings for your business as it removes the cost and challenges of hiring a phone system technician or administrator.
Even better is that if you choose your VoIP service provider carefully, you may never have to deal with technical issues.
For example, nurangos hosted PBX has built-in redundancy so it's guaranteed for 99.999% service availability with 100% server up-time. This is completely independent of the state of your local technical infrastructure. This insulates you from down time due to on-premise technical issues, third party vendors and natural disasters.
TIP: Check your potential providers up-time status page to get a grasp of issues and frequency that you might expect with them.
A Hosted PBX service provides you with self service web-based admin portal that will enable you to perform your own administration tasks.
An On-premises PBX solution could require your business to hire a VoIP technician with the necessary skills and expertise to manage your systems
Someone with knowledge of an Industry standard PBX platform such as open-sourced Asterisk, or a proprietary PBX flavour will be a a necessary expense.
Since technologies are ever evolving, you will be required to constantly update your in-house VoIP technician's skills by training and practical workshops translating to additional costs to your business.
A number of VoIP service providers, provide troubleshooting services which are usually charged per-hour.
Superior features

Hosted PBX service providers usually have the latest and most advanced VoIP software available on the market, which translates your business having access to the most technologically advanced VoIP features.
These software and applications are expensive and this makes it extremely difficult for an on-premise to have modern and technologically advanced integrations with other third party software that can together, improve your workflows.
So what have we learned?
After highlighting a few key points we see that there are several factors that a business must consider when choosing the most appropriate VoIP Business Phone Solution. Up front and ongoing costs associated with an on-premise phone system along with restricted calling coverage and de-centralized management are considerably large drawbacks of this type of deployment. A hosted system offers lower start-up costs, no ongoing maintenance of the system, built in support and future proofing.
All things considered, a Hosted PBX solution arguably has many more benefits over an in-house solution such is the realization of many other SaaS solutions you likely are already benefiting from.
Benefits of a Hosted PBX solution
Little to no Hardware costs
No on-going maintenance or paid service and support costs
Easy integration with third-party applications
Unlimited Scalability in adding more users and phone lines
Advanced VoIP Business Phone features
Geographical Flexibility that includes multi-site support and centralized DID management
If you're interested in taking the next steps and want to find out if your network is ready for VoIP, download our free VoIP Readiness e-book below.

Did we miss something? Have something to add? Leave us a comment below!