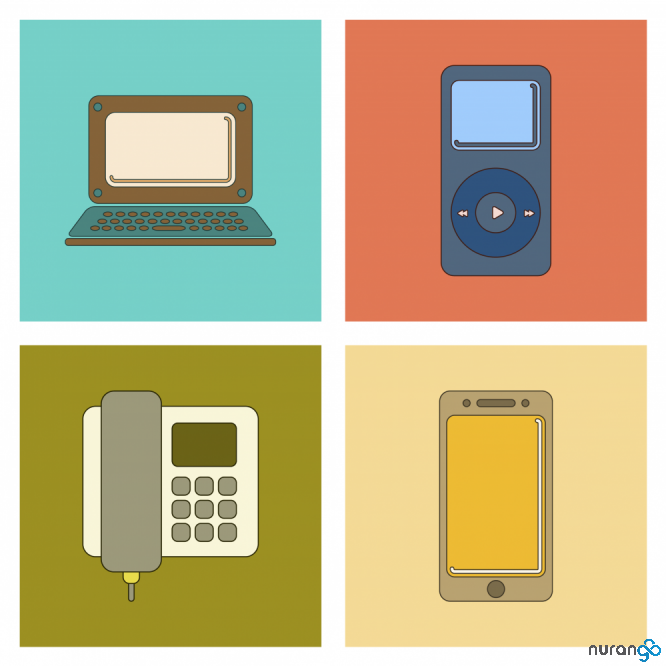 What is a Softphone?
Before getting into our top 10 Softphones in the market, I'll quickly go over what a Softphone exactly is for those who don't know. A Softphone is program or, application that is installed on an internet ready device such as a tablet, laptop, desktop PC or even on a smartphone that allows you to make and receive voice and video calls as well as message and collaborate via Voice over IP technology.
A softphone is an installable phone enabled application the offers the basic features of a physical desk phone such as calling, transferring, hold, checking voicemail, call logging, call forwarding and so on, with additional features that can only be offered by integrating with a software solution.
Your conversations will usually take place through a headset, microphone or speakers.
A Softphone can be quickly downloaded either from app stores or through the websites of a variety of softphone developers and VoIP providers such as nurangos pre-configured Zoiper version for example.
Many of these applications are free though a few have upgradeable versions with business cases that more than justify the additional cost. Our list includes versions for a variety of operating systems such as Windows, Linux, Macintosh, and on mobile platforms .i.e. Android and iPhone.
Below is a compilation of our top 10 favorite Softphone applications, categorized into desktop and mobile versions including cross platform versions which support both desktop and mobile devices.
Desktop and Mobile versions
The Softphones highlighted below have both desktop and mobile versions for Windows, IOS and Android.
| | |
| --- | --- |
| Zoiper | |
The Zoiper softphone easily integrates with Microsoft Outlook, Windows, IOS and Android platforms. After downloading it, you only require an internet connection with a USB headset.

Features
Fax capability, Click-to-dial, Call history, Contacts management, encryption, SIP or IAX endpoints
Pros
Free version
Supports encryption via SIP/TLS & SRTP by default
Support for multiple accounts
Ability to import and export contacts from CSV files
Cons
No video tutorials and live customer support only by email.
Email requests are usually resolved within 2 business days
Does not integrate with any CRM
Upgrade necessary in order to use handy features such as; Instant messaging and video calls
You must pay a VoIP services provider to provide you with a VoIP service.
Final Thoughts
Zoipers' simple and easy to use interface is a plus and its simple search bar makes it easy to find contacts.
Its' fax capability and low resource consumption is definitely a game changer in the industry.
You will need to upgrade if you intend to have some advanced phone features such as HD calling, but the free version is perfectly fine for most users as it offers standard call handling functionality.
| | |
| --- | --- |
| X-lite | |
X-lite from Counterpath is a free softphone with a clean and simple interface that's easy to deploy. When upgraded to the commercial version "Bria", you can unlock integrations with a number of third-party applications such as; Salesforce CRM, Microsoft Outlook and even your IOS Address book for calling your contacts.
It can run on Windows 7, 8, 9 or 10 and Mac OSX 10.10 or 10.11. Once you attach your USB headsets and activate your internet connection, you are good to go.
Features
Voice and video calling, chat rooms, contact management, simple interface, instant messaging
Supports IM/Presence
Can customize the dialplan
Multiple NAT options and UDP or TCP transport
Support for HD calling via G722 codec
Pros
Its' got a sleek and modern look.
Easy to access voicemails, missed calls, choose device and volume adjustment
It provides you with a detachable window for contacts in-case you are calling a long list of people, and you still want to view your keypad while calling people.
Includes video calling
Cons
Single account only
No bulk adding of contacts
Support through forums means you should have someone technical manage the deployment
Upgrade is needed to use call encryption via TLS/SRTP
Final thoughts

Bria's call history that allows you to filter calls that were received, missed, dialed is definitely a plus for most users.
Even though Bria has a setting 'Hide Your Number', I would advise you not to use it since people usually don't pick calls that don't indicate who is calling, furthermore, they won't be able to call you back.
Consider upgrading to Counterpaths Bria-X which provides cloud based provisioning of softphones and a number of upgraded features such as screen sharing, file sharing, automatic contact syncing and call encryption.
| | |
| --- | --- |
| Jitsi | |
Jistsi is a free and open source softphone application that requires a Java-based platform to operate. It supports Windows, Mac, Linux, Android and iPhone operating systems.
Features
Free Voice, Video conferencing, file transfers, desktop sharing
Easy to use controls
Pros
Free and Open source
Communicate over SIP
Fully WebRTC complaint
Compatible with Google voice
Cons
You must have Java installed
Cumbersome interface (UI)
Un-reliable as the project grows and stabilizes
Final thoughts
As an open source application, reliability will obviously be an issue since it is constantly being updated and refined.
There isn't any in-depth documentation on its features and thus it might cause problems for users who are not hands on. However, the Jitsi team have developed a great Softphone that is free to use and done a marvelous job in maintaining this open source SIP softphone.
I see no issues with Jitsi being used as a personal softphone but if you intend to use for team members, I would recommend Zopier.
| | |
| --- | --- |
| MicroSIP | |
Mirco Sip is free and open source softphone that runs on a Windows OS platform.
It communicates over SIP protocols and requires very minimal resources to operate.
Features
Supports High-quality VoIP calls
Supports HD video
Pros
Lightweight application
Easy to use
Free to use
In depth-documentation available online
Cons
Difficult to set up
Lack of commercial support
Final thoughts
Micro SIP application may be open source and free to use, but its difficulty in setting it up and poor customer service support doesn't attract any potential users.
| | |
| --- | --- |
| Linphone | |
Linphone is an open source softphone that was initially designed to work for free with SIP services. Its' earlier versions only supported Linux but later versions were developed for Windows, Mac OSX, Android, Windows Phone and Blackberry.
Features
Supports HD video calls in full-screen mode
Call recording (audio & video)
Creates conferences instantaneously
Pros
Good user interface
Premium contact management
Intuitive Conference calling
Cons
Missing standard configuration options
Doesn't have a standard phone dialer
Supports only VP8 video codecs
Final thoughts
It is a good phone for the typical user who just requires a phone for daily use.
Its' integrated messaging and call history features are a bonus and a breeze to work with.
Its downside is its inability to allow users to configure the entire account in the GUI wizard and be able to prioritize codecs.
| | |
| --- | --- |
| Blink | |
This is a simple softphone that even your parents will find easy to use. It supports multiple SIP accounts and only Mac versions are available at the moment.
Features
Has an iCloud account which syncs between multiple computers
Supports file transfers
Supports screen sharing
Pros
Easy to use interface
Built-in SIP account sign-up
Supports SIP accounts
Cons
Only a few features will work with a SIP account from AG projects
Only a Mac version available at the moment
Final thoughts
An easy to use Softphone, but unfortunately, its limitations to only Mac versions don't make it widespread as would have been expected.
Mobile versions
These Softphones are only available on Mobile devices
| | |
| --- | --- |
| CSipSimple | |
A free SIP client developed for Android platforms. It does not support business features like blind or attended transfer.
Features
Basic standard Softphone features – Call handling, call history
Pros
Integrates well with native dialer
Easy to call people within your network using SIP URIs
SIP Encryption with TLS/SRTP
HD Calling via G722
Low bandwidth codec G729 included
Cons
Doesn't support transfers
Only has basic handling
Final thoughts
A good SIP client for Android environments with basic calling functions for making and receiving calls.
| | |
| --- | --- |
| Acrobits | |
The Acrobits Softphone is a mobile SIP application for the iPhone platform.
It has had some great reviews with 4/5 star ratings from the many consumers who have used it.
Features
Customizable ringtones
Google Voice integrations though you require a Google voice account, SIP account with DID
Supports Push notifications
Pros
Looks sleek
Easy to use interface
Making calls over a WiFi connection is very easy with it
Cons
3G performance isn't as good
Doesn't have any transfer functionality

Final thoughts
The Acrobits is an easy to use VoIP client for the iPhone platform.
It is good for making and receiving phone calls but performance over 3G varies depending on your signal strength.
Lacking transfer functionality sets limitations on those who would love to mirror their desk phones functions.
| | |
| --- | --- |
| PortSIP | |
PortSIP It is open source softphone and a hybrid that has both mobile and desktop versions.
It can run on Windows 98, 2000, XP and 2003 machines. It mobile versions are supported by Android and iOS.
Features
Supports as many as five phone lines
Basic call features – Call hold, call transfer, 3 party conferencing, auto answer and redial
Instant messaging
Pros
Can record calls on a WAV file
Video conferencing with required any MCU
Customizable – Supports rebranding to suit company colours, logos, icons
Provides professional real-time by the Port SIP development team
Cons
Mac versions not available yet
Final thoughts
This is a great android and windows platform Softphone.
It has a Web RTC Gateway that allows users to make and receive calls or initiate video conferencing sessions from a standard web browser without the need for downloading any plugins or software.
Softphones are definitely forcing established telecommunication re-think the long-established business models.
The ability to provide call features on cloud platforms accessible to millions of people around the world is definitely a game changer in the telecommunication industry.
If you have any questions about deploying a Softphone solution for your business, we would be happy to answer them for you.
Use any of these Softphones and more with our hosted phone system for business.