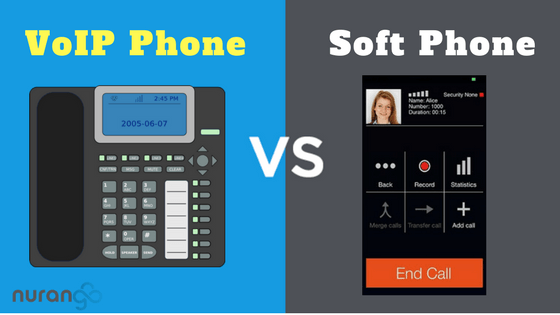 The choice of whether to deploy an IP Desk phone or Softphone phone solution with their phone system is a question that many businesses have to grapple with.
In this blog post, I will walk you through a comparison of IP Desk phones and Softphones to assist you in making the best choice for your business communication needs.
Numbers don't lie
According to a report published by Zion research, they estimated the global demand for the VoIP services market to be valued at USD 83 Billion in 2015 and USD 140 Billion in 2021 with an anticipated CAGR growth of at least 9.1% between 2016 and 2021.
IT World estimates that switching to VoIP phone solutions translate to over a 45% savings for businesses per month over a traditional phone service.
Gartner estimates that Softphones resulted in average savings of $1,727 per month in cell phone and long distance charges.
What is an IP Desk Phone?
An IP Desk phone is similar to a traditional analogue (PSTN) handset, it sits on your desk and lets you make and receive calls. The difference is that instead of it being connected to a traditional telephone line, it is connected to an IP (Internet Protocol) network.
IP Desk phones range within different price points. You have a choice for basic models starting at $50 or higher end models that can fetch a couple of a hundred dollars. The higher-end models have more ports, touch-sensitive screens and provide support for High definition (HD) voice.
What is a Softphone?
A Softphone is a computer program that is used to make phone calls over the internet.
This computer program can be installed on different internet enabled devices such as; tablets, smartphones, laptops and desktop PCs.
Softphones come with features similar to a cell phone such as; dialing pads where users key in their numbers to make calls, contact list, call forwarding etc. In addition, because they are software based they can interact and integrate with many third-party applications and services such as CRM integration and Click to Call functionality.
Softphones' ability to make or receive phone calls using computer programs installed on a variety of internet-enabled devices is definitely a game changer within the growing global VoIP industry.
Majority of people are familiar with the freely available VoIP solutions such as Skype and Hangouts. This makes it easier for people to understand and adopt VoIP phone solutions.
Softphones can also use the 'BYOD' model which allows users to bring their own Internet-enabled device ie; laptops, tablets and smartphones for the installation of softphone application programs.
This enables users to access their contact list, make and receive phone calls, check messages and conference, regardless of their geographical location.
Hard Phone Vs Softphone; Lets' do a comparison
Most businesses with internet connectivity within their premises will prefer to deploy to install a Softphone phone solution for their business as opposed to deploying an IP Desk phone solution which will entail incurring additional costs such as; purchasing the VoIP phones, installation and configuration, and updating of the firmware.
This will include additional cabling and possibly routers, switches and power adapters.

Businesses that will be looking for ways to cut down on their communication costs will find deploying a Softphone solution for their communication needs as the best approach since it doesn't require any physical equipment for its deployment.
Those businesses with a primarily mobile-based workforce or remote works will obviously find this solution as the ideal choice.
IP Desk Phones; Pros and Cons
Majority of businesses are familiar with VoIP phones due to various reasons such as;
Good voice quality
Though dependent on the quality of Internet bandwidth, both phone types are SIP-based and are capable of HD audio and video calls.
Ease of use
Customer care and call centres usually find it easier to perform common VoIP features such as; call forwarding, call holding on VoIP phones using standard VoIP handsets.
VoIP phones have their draws backs as business phone solutions for businesses, such as;
Start-up costs
You will incur additional costs in the deployment of a VoIP desk phone solution as you will have to purchase VoIP phones which range from $50 for a basic VoIP phone to $200 for handsets with premium features.
This is an unattractive feature for start-up businesses which are cash-strapped.
IP Desk phone; when is it viable to get one?
I only recommend using this solution if most of your business and users mainly operate in a physical office premise. Remote and ad-hoc users would be better off with a quick to deploy soft phone solution.
Softphones; Pros and Cons
The deployment of a Softphone solution as your preferred app for your business calls has many advantages over a VoIP desk phones such as;

Portability
Softphone applications can be installed on virtually all internet enabled devices such as desktops and Smartphones.
Cost-effective
Softphone software doesn't require a license to purchase or hardware to connect. A desktop administrator can easily install a Softphone on a clients' computer, equipped with a cheap and easy to use headset which plugs into a standard USB port.
The cost savings proposition is a major consideration for many business start-ups who are on the lookup for cost-cutting measures.
Mobility
Employees are able to access their phone lists, receive and make phone calls regardless of their geographical position as long as they have access to an internet connection.
This improves efficiency and results in high productivity in business operations.
Flexibility
Although Hard phones are improving and features range between models that reflect the price, softphones are portable, integrate with other services and are mostly free. Paid versions of softphones still far outweigh the cost to features difference between the two options.
Background Noise
When a user receives or makes a call, they have the option of using a microphone and standalone speakers or using a VoIP headset.
The microphone and speakers option doesn't offer a good call quality due to the background noises and it is a distraction to other employees within an office setting.
Softphone; when is it viable to get one?
You're are a start-up business, cash-strapped but determined to have a strong business presence within your industry in the shortest time possible, or you an established business that wants to reduce communication costs. The phones features also might integrate with your CRM or some type of third party app that will increase your productivity.
If that resonate with you, then a Softphone solution should be your preferred mode of communication solution.
IP Phone Vs Softphone; The Verdict
Both IP Desk phones and Softphones have got their pros and cons and you'll need to take your business individual needs into consideration to determine the most appropriate phone solution.
Businesses are becoming more competitive and are under immense pressure to streamline their business operations into lean, efficient and cost-effective business entities.
The majority of businesses are choosing to deploy both business phone solutions since they both offer unique benefits to businesses.
However, the new and emerging trend of businesses acknowledging the benefits of having a unified communication portal with the ability to integrate 3rd party applications, the Softphone solution is becoming the preferred business phone solution for companies around the world.